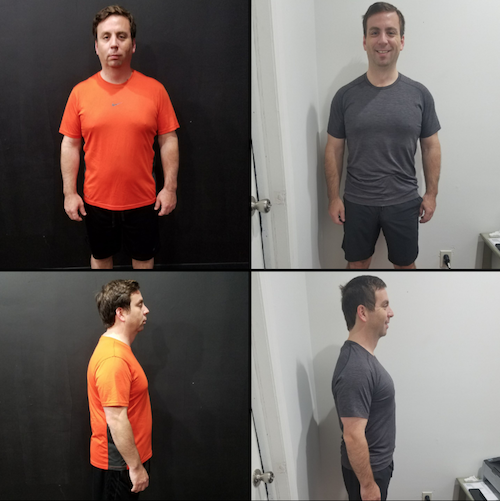 We are so excited to spotlight Juan on winning September client of the month! In September alone Juan lost 3% body fat and gained 1lb of muscle which is HUGE progress in just one month. He also reached his long term goal of losing 30lbs. Last week we sat down and interviewed him, below is his story in his own words...
"Starting out my goal was to get to my ideal body weight, lose 25lbs, eliminate pain from old injuries, and increase my energy levels. I always enjoyed playing sports and did so a lot when I was younger but with the demands of a busy job, traveling for business, and having 3 kids my health and fitness became hard to keep up with."
"My goals were important to me because I got to the point where the simplest daily tasks were getting complicated due to my weight gain. I remember how difficult it used to be for me to run 100 meters when trying to catch the train. I also suffered knee and shoulder injuries in the past and the pain from these injuries never fully went away."
"I had the goal of losing 25lbs and getting to my ideal body weight for the last 15 years! But the lack of consistency in my workouts, nutrition, and even sleep were really holding me back. I also realized I need a personalized approach. I tried other group fitness and boot camp style approaches before, but they did not work and actually got me injured."
"Then I found Power Health and Performance one day walking in downtown Harrison. When I spoke to the owner John Calarco about their approach it seemed like the right fit me for and would provide me with the personalized program, coaching, and accountability I was looking for."
"When I started training at PHP I knew I had a lot to work on and it would be a process, so I went into the program without any expectations and decided to simply do my best to work on all of the components I needed to. In the first few months I was not as consistent as I could have with my training, nutrition, and sleep, but as I kept practicing and receiving continued support and accountability I began to get the results I wanted and now I have accomplished my initial goals."
"I have lost 30 pounds since I started training at PHP which has been a little over 1 year now. My energy levels are much better, I stopped waking up so tired, now I actually wake up early naturally and most mornings have the energy to do a small workout or go for a run which is something I have never experienced in my life. I also don't have any more shoulder or knee pain, and this has freed me to confidently enjoy the sports and activities I love like skiing, running, and playing tennis. I really needed all the mobility training and functional movement approach that I got at PHP, this is what helped me get rid of the pain from my old injuries.
"I am very excited for my future and now that I have built good habits in my training, nutrition, and sleep I am confident I can continue to improve my health and fitness to even higher levels"